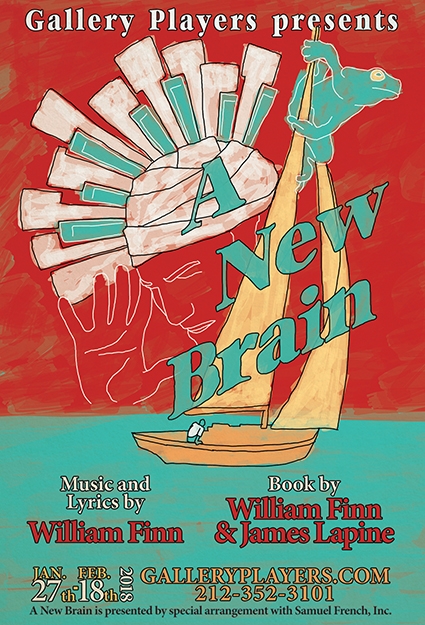 The Gallery Players, Brooklyn's Premiere Off­-Off Broadway theater in it's 51st season announces auditions for upcoming AEA showcase (approval pending) production of A New Brain, music and lyrics by William Finn, book by William Finn and James Lapine.
Director Barrie Gelles; Producer Justine McLaughlin /The Gallery Players; Music Director Sobina (Yi-Hsuan) Chi; Choreographer Barrie Gelles
Rehearsals begin Saturday December 16, evenings and weekends (possibly some weekdays depending on actor availability), with a week off between Dec.24-Jan.1. Runs January 27 ­through February 18,Thursday- Saturday nights and Saturday and Sunday matinees. All auditions, rehearsals, and performances at The Gallery Players, 199 14th Street, Brooklyn.
Open call auditions for all characters on Monday, Nov. 27 from 7-10pm and Sunday, Dec. 3 from 1-4pm. Sign-in will open half an hour before each audition and sign-in will close thirty minutes before the end of each audition. AEA priority. No submissions necessary for open calls; just show up. Callbacks will be on Sunday, Dec. 10 from 12pm-5pm.
Actors should bring 16 bars of a musical theatre song. Bring sheet music in the correct key, no lead sheets. Dance auditions, when applicable, will take place at callbacks.
All roles open.
Seeking 12 Cast Members.
All roles are open to all actors. We are looking to audition Arab, Asian, Black, Latino/a/x, Multi­-Racial, Native, Pacific Islander and White, Female­-Identifying, Male­-Identifying, and Gender-Non-Conforming performers, of all abilities, for all roles.
Character Breakdown for A New Brain
Note: All characters make up the ensemble and play multiple roles as needed. All characters sing in the ensemble songs which are lush with complex harmonies and featured solos.
Gordon Micheal Schwinn – character is male. A musical theatre composer who is struggling to find balance between his desire for an artistic career and his need to compose songs for a children's television show in order to make a living. In a long term relationship with Roger but, as with all of his relationships, Gordon remains guarded and cynical. Faced with an actual mortal crisis, Gordon reexamines his life through brain tumor related hallucinations, moments of panic, coma-induced musical theatre dreams, and euphoric revelations. Character age – 35-40.
Homeless Lady – character is female. A person, like any of us, who has fallen prey to a series of circumstances that have left them jobless, homeless, but not quite hopeless. She is blunt and speaks her mind because what else has she got to lose.
Rhoda – character is female. Rhoda is Gordon's agent and as such they have developed a friendship of circumstance. She is driven, on the go, and a would-be power player. Rhoda is relentless to a fault but profoundly loyal. Character age: 30-40.
Waitress – character is female. Brimming with effervescence and enthusiasm. She performs her role as a waitress with panache. She may or may not be an underemployed actor.
Mr. Bungee – character is male. The creator and star of a live-action children's television show, Mr. Bungee is a middle-aged small time mogul with an inflated sense of self. His television persona is a giant anthropomorphic frog which is equal parts ridiculous and terrifying. He has hired Gordon to write songs for the television show. Character age: 55-70.
Richard, a nurse – character is male. A kind and compassionate nurse who is genuinely concerned about the patients. He sings "Poor, Unsuccessful, and Fat," a comic lament about the life he is not quite living. Richard is very likable, but does not particularly like himself.
Nancy D., a nurse – character is female. A tough and efficient nurse who's bedside manner is not her best skill. She is confident and does not hide her self-assurance. Nancy does not mince words or opinions, and she doesn't have time for this.
Dr. Jafar Berensteiner – character is male. A brilliant brain surgeon who, like most surgeons, is to the point. Dr. Berensteiner is very good at what he does and honest about the risk inherent in the procedure.
The Minister – character is male. A minister who visits the hospital to offer comfort and counsel to those who need it. His warmth contrasts with the inherent coldness of the surgical wing of the hospital.
Roger Delli-Bovi – character is male. Open hearted, vivacious, and dreamy, Roger is probably a pisces. Roger believes in love but is not a cock-eyed optimist. He is a committed partner who knows that relationships take work. And it is that fierce commitment that keeps him fighting to get through to Gordon. Character age – 35-40.
Mimi Schwinn, the mother – character is female. A Jewish mother with a flair for the dramatic, Mimi is benignly narcissistic at times. Make no mistake about it though, she is a good mother and loves her son and all that he is. Her children are her life's work and her greatest joy, but they are grown and rarely need her anymore. Character age: 57-65.
Ensemble – 2 additional performers to portray additional characters, perform in all group numbers, and serve as swings/understudies for the named roles.