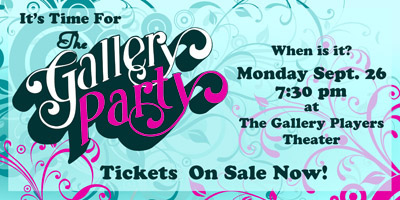 The Gallery Party is our annual fund and friend-raiser
to benefit The Gallery Players
Monday, September 26th from 7:30 – 10:30pm
at our home:
The Gallery Players Theater
199 14th St. (between 4th/5th Avenues) in Park Slope
Mingle with friends and fellow TGP supporters and celebrate the best of "Broadway in Brooklyn"!
Supporter Tickets – $50.00
($35 tax-deductible)
VIP Supporter Tickets – $100.00*
($75 tax-deductible)
*Includes a special VIP gift bag
Gallery Players Alumni Tickets – $35.00
($20 tax-deductible)
If you are a alumni performer or staff member, message us at info(at)galleryplayers.com for your discount code.
Click here to purchase your tickets.
Join us for:
An open bar of wine, beer, and special non-alcoholic mocktails.
Light food throughout the evening.
Performances by some of our talented alumni and special guests, directed by alumni director Tom Wojtunik and hosted by our favorite "Man in Chair" from The Drowsy Chaperone, Craig Treubert. For a list of performers, see below.
Raffle prizes including Broadway and other theater and concert tickets, gift certificates from local businesses, and other special giveaways.  For a list of raffle prizes, see below.
A special backstage tour of the theater.
More surprises to be announced!
Live Auction at the party!
This prize will not be available via the raffle.  For a chance to win, buy a party ticket!
2 Tickets to see Spider-Man: Turn Off the Dark on Broadway
Raffle Prizes!
You will be eligible to win these items by purchasing raffle tickets either on-line or at the party*:
2 Tickets to see Lysistrata Jones, a new musical, on Broadway
2 Tickets to see Rent Off-Broadway
2 Tickets to see Love, Loss, and What I Wore Off-Broadway
2 Tickets to see Play It Cool, a new musical,Off-Broadway
2 Tickets to A Halloween Thriller: A Dance Celebration of Ghosts, Ghouls, Vampires & Wilis, hosted by Chita Rivera, Monday, October 31 at 7:00 pm at City Center
2 Tickets to tour Lincoln Center Campus
Prospect Theater Company Tickets (good for any show in their mainstage season)
$50 Gift Certificate to South bar/pub in Park Slope plus Gallery Players tickets
$50 Gift Certificate to Side Car restaurant in Park Slope plus Gallery Players tickets
$30 Gift Certificate to  Peppino's Brick Oven Pizza & Restaurant in Park Slope plus Gallery Players tickets
$30 Gift Certificate to Two Boots Pizza Restaurant plus Gallery Players tickets
$40 Gift Certificate to Bar Tano in Park Slope (quantity 2)
Dinner for two at Piramide Mexican Bistro in Park Slope plus Gallery Players tickets
Catch Me If You Can official Broadway opening night robe
Necklace and Earring Set hand-made by Jeweler Jill Batcheller (retail value $80)
2 Tickets to see Arturo O'Farrill's Grammy Award winning Afro Latin Jazz Orchesta, 10th Anniversary Performance on Friday, January 20th
Mary Poppins soundtrack CD signed by Tony-nominee Gavin Lee and current "Mary" Laura Michelle Kelly. (quantity 2)
Click here to purchase your raffle tickets or call 212-352-3101
*raffle prizes subject to change; some prizes may be combined into packages
Entertainment biographies
---
River Alexander began his professional stage career at The Gallery Players! His early start was at the age of 8 performing in community theatres in his home state of Florida. He has been very fortunate over a short period of time to work with many outstanding directors, composers and actors. River's theatre credits include: The Gallery Players – Caroline or Change,Oliver!; Broadway/Off Broadway- Bloody, Bloody Andrew Jackson; Broadway National Tour- Billy Elliot; The 5th Avenue Theatre – A Christmas Story, the Musical;  Film: Extremely Loud and Incredibly Close (director: Stephen Daldry), Marley and Me (director: Scott Frank). Training: tap, ballet, violin, and fencing. Recently finishing the tour of  Billy Elliot, River was cast in the feature film Right Next Door (starring Linda Hamilton) due to be released in 2012. Regardless of all of River's new endeavors, he holds a very special place in his heart for The Gallery Players…this was his beginning where he will always want to return to. RiverAlexanderOnline.com.
---
Frederick Hamilton has performed worldwide on the tours of Oklahoma!, Camelot and Beauty and the Beast.  New York credits include the Public Theatre's Measure for Pleasure, James in the original workshop production of The Last Sunday in June, Frankie in Forever Plaid, John Jasper in The Mystery of Edwin Drood, Peter in It's Only a Play, Strephon in Iolanthe and the Fringe Festival productions of Escape From Pterodactyl Island and The First Step.  Favorite roles include Fredrik in A Little Night Music and Cliff in Cabaret with Kalliope Stage; Paul in Barefoot in the Park with Chatham Theatre Company; Ty in Sordid Lives at the Arrow Rock Lyceum Theatre; Jesus in Godspell, Tony in West Side Story and the title roles in Joseph… and Pippin at the Bucks County Playhouse.  Frederick appeared frequently, if fleetingly, on As the World Turns and mourns NYC's loss of yet another soap.
---
Marcie Henderson is delighted to be part of this celebration and has appeared in three shows for Gallery Players as The Music Hall Singer in Violet, as The Acid Queen in The Who's Tommy and as the gyrating Washing Machine in Caroline, or Change.  As a singer she has sung for many US dignitaries including former President Gerald Ford, Secretary of State George Shultz, Supreme Court Justice Sandra Day O'Connor and House Majority Leader Nancy Pelosi, to name a few.  Theatrically she has appeared in productions for The Astoria Performing Arts Center, Snapdragon Theatre, Theatre Breaking Through Barriers, Luna Stage, Metropolitan Playhouse, FringeNYC, Ground Up Productions, La Mama/11th Hour, Opening Doors, Houston TUTS, Center Rep, Ogunquit Playhouse, Totem Pole Playhouse, TheatreWorks Palo Alto, Campo Santo, San Francisco Mime Troupe, Thick Description and many more.
---
Nathan Johnson is a Minnesota native. He performed the role of Orlando in one of his all time favorite shows, Like You Like It at the The Gallery Players.  Nathan performed as Aladdin at the Tony Award winning Children's Theatre Company of Minnepolis, where he met his wife Laura who was playing the role of Jasmine.  Favorite past roles include Matt in The Fantasticks, Joseph and The Amazing Technicolor Dreamcoat, and can also be seen on numerous howcast.com videos.  Nathan is now working full-time as a photographer and recently opened Red Door Studios, which houses many different talented artists.
---
Robert Anthony Jones at TGP: Man of La Mancha, The Drowsy Chaperone.  Original Casts: The 101 Dalmatians Musical (dir. Jerry Zaks), The Prince and The Pauper (OOBC recording, Jay Records).  Regional: The Producers, Little Shop, Chicago, Sweeney Todd. TV: Drew's Famous Magical Jukebox Children's Series.  www.robertanthonyjones.com.
---
Lorinne Lampert has appeared with TGP in The Drowsy Chaperone (Chaperone), Top of the Heap (Coochie), Thoroughly Modern Millie (Gloria), and Victor/Victoria. Recently featured in: American Vaudeville Theatre Extravaganza (NY Int'l Fringe Festival). Other NY credits include: Far Out (Lydia), Minetta Lane Theatre; A Flanders and Swann House Party, York Theatre; American Girls Revue, Pirates of Penzance, and numerous shows with Tuckaberry Productions. Variety credits (sometimes as "Uke-Lola") include Bindlestiff Family Cirkus Variety, American Crossword Puzzle Tournament, and the White House Easter Egg Roll. BFA, Emerson College.  www.lorinnelampert.com
---
Alison Luff is thrilled to be supporting The Gallery Players by singing with her dear friend Nathan! At TGP she appeared as Rosalind in the smash hit musical Like You Like It (2009 NYIT winner for outstanding musical) as well as the title role in Thoroughly Modern Millie.She is currently living life on the road with the Broadway National tour of Mamma Mia! Love and thanks to her Family, Judy, Craig and Travelocity.
---
Daniel Henri Luttway is thrilled to be coming home to the Gallery Players where he performed in Caroline; or Change (Noah) and Tommy (Age 10).  Additional New York Theatre Credits: Family Fiorelli (Barton/York Theatre); Once Upon a Mattress (Dauntless, CGPS), Children of Eden (Young Cain, APAC) and Ragtime (Little Boy, APAC).   Among other projects, and a very busy school year, Daniel looks forward to beginning his newest endeavor this fall…"Kids 4 Kids" a vocal performance troop that tours area hospitals entertaining sick children.
---
Jaygee Macapugay:  Gallery Players:  Reefer Madness (Mae); Other NYC:  Jaygee played the title role of Imelda Marcos, Off-Broadway in the East Coast premiere of Imelda: A New Musical at the Julia Miles Theatre (Pan Asian Rep).  Prospect Theatre – The Rockae (Aeolia), Honor (Mitsuko); Frank Wildhorn's Tears from Heaven (workshop).  Regional favorites:  Aida (Amneris), Miss Saigon (Kim), Smokey Joe's Café (Brenda), Jesus Christ Superstar (Mary), The King & I with Lou Diamond Phillips; KC Starlight, MUNY, 5th Avenue, Casa Manana, Maltz Jupiter, Seaside Music Theatre, North Carolina Theatre, among others. International:  Where Elephants Weep (Cambodia).  Jaygee proudly sang for our troops with the USO Patriettes.  Upcoming:  Lincoln Center debut in Sondheim Suites, with Lea Salonga.  Long live The Gallery Players!  www.jaygeemacapugay.com
---
Jennifer McCabe has performed over sixty characters on the stage and screen. She has originated seven Off-Broadway roles with Jane Street Theatre, Cherry Lane Theatre, The Barrow Group Theatre Company, Rattlestick Playwrights Theater, Soho Repertory Theatre, Atlantic Theater Company and Theater at St. Clement's and has been seen in feature films (The Pack, The Projectionist, Straight Forward) and on TV (Law and Order, SVU; Sex and the City, etc.). She also currently holds faculty posts at both NYU Undergraduate School for Film and Television (NYU-UGFTV) and at The New School For Drama MFA proram.  Jennifer has served as a faculty member at The Lee Strasberg Theatre and Film Institute and for the BFA Conservatory Film Program at SUNY Purchase. Jennifer McCabe Studios is Jennifer's private acting studio that operates in New York City.
---
Rhyn McLemore was most recently seen as Bell in The Active Theater's world premiere of Bridgeboy. Gallery Players credits: The Crucible (Elizabeth Proctor) and Violet (title role). Favorite regional credits include: A Streetcar Named Desire (Stella) and Our Town (Emily).
WV Public; The Crucible (Abigail) and The Comedy of Errors – NC Shakespeare Festival; Ragtime (Mother) and Hair (Jeanie) – Weathervane Theater; Disney's Beauty and the Beast (Belle) and Grease (Rizzo) – Beef and Boards; and The Fantasticks (Luisa) – The Spoleto Festival. Rhyn is a graduate of the Carnegie Mellon School of Drama.
---
Jan-Peter Pedross:  At The Gallery Players: The Drowsy Chaperone (Underling), Violet (Preacher), Chess (Walter) as well as Tommy (Minister), Man of La Mancha (Cervantes/Quixote), Urinetown (Hot Blades Harry) – all directed by Tom Wojtunik. Also with Mr. Wojtunik: The Human Comedy at Astoria Perf. Arts Ctr.  Four shows/seasons with Mettawee River Company. Two shows and marathon reading of  all eight "history" plays with Judith Shakespeare Co. Much downtown/experimental theater, some film/TV/commercials.
---
Craig Treubert is excited to be back at Gallery and once again with the best seat in the house. The Drowsy Chaperone went up earlier this year on this very stage and has been nominated for 7 NYIT awards, including Outstanding Lead Actor for Craig's portrayal of the Man in Chair.  Favorite roles outside of The Gallery Players include Leo Frank in Parade, Applegate in Damn Yankees, and Neville Craven in The Secret Garden.  Many thanks go out to Heather, Tom, Neal, and everyone at Gallery for welcoming him into the OOB family with open arms.
Tom Wojtunik (Director) TGP: The Who's Tommy, Man of La Mancha, Six Degrees of Separation, Urinetown (NY IT Award, Outstanding Musical), Take Me Out (Gallery Players). Tom is the artistic director of the Astoria Performing Arts Center (APAC), where he directed The Human Comedy, Children of Eden (NY IT Award, Outstanding Musical), The Pillowman, Ragtime and Proof. Other NY credits: The Play About the Naked Guy, Edenville (NY IT Award Nomination for Best Director, Emerging Artists Theatre); Grease 3: Threase (UCB/The Pit), The Miss Education of Jenna Bush (FringeNYC, Best Solo Show & Audience Favorite); Bright Lights, Big City (Marymount Manhattan College); I'm In Love With Your Wife (Midtown International Theatre Festival); The Good Thief and Rum and Vodka (Prospect St). Tom was a Resident Director for the Ensemble Studio Theatre, where directed workshops of Bella Via and David's Play. Tom is a member of EAT and the LCT Directors' Lab. BFA: Marymount Manhattan College. SDC Member.
Brandon Sturiale (Music Director/Piano) is always happy to be at The Gallery Players, having worked on four productions here so far.  Most recently, he was the Music Director/Keyboardist for Reefer Madness, which was nominated for an NYIT Award for Outstanding Musical.  Prior to that, he music directed You're a Good Man, Charlie Brown and played in the band for Chess and The Mystery of Edwin Drood.  Other credits include: The Marvelous Wonderettes (Off-Broadway, Westside Theatre), Gypsy (national tour), Urban Cowboy (national tour), Legally Blonde (Gateway Playhouse), and Xanadu (Barter Theatre).  www.brandonsturiale.com