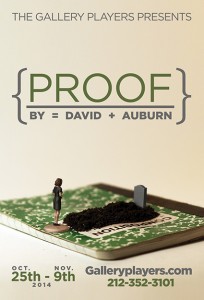 Auditions sides for Proof
CLAIRE side 1
CLAIRE side 2
HAL side 1
HAL side 2
ROBERT side 1
ROBERT side 2
Email submission can be sent to auditions@galleryplayers.com. Please prepare a 1-2 minute dramatic monologue. No appointment necessary for open call, just show up. Sign in begins at 6:30pm.
Breakdown
Catherine:  THIS ROLE IS CAST.
Claire (30-37): Catherine's older sister.  Hard working, manipulative, focused.  A "put together", no-nonsense, "take charge" kind of gal–she has been financially supporting her sister and father while he was sick and has taken on the responsibilities of her father's estate and is spearheading his funeral arrangements.  She left her father and sister behind in Chicago to make a new life in New York City complicating her relationship with Catherine.
Robert (approx. 60 years old):  The recently deceased father of Catherine and Claire.  He was a University of Chicago professor and mathematician who did groundbreaking work throughout a distinguished career but whose latter years were plagued by mental illness.  Charming, stubborn and disillusioned.  He has a very strong connection with and admiration for Catherine, her aspirations and the common traits that they share and is seen throughout the play in flashback and as part of her imagination. 
Harold/Hal (25-32):  One of Robert's last Ph.D. students during the one year his mentor's illness went into remission enabling Robert to teach.  Quirky, witty, conflicted and bright.  Hal believes that somewhere in the gibberish that Robert wrote in his latter years, there might be additional evidence of his mathematical genius and spends time at the family home going through his notebooks when he falls for Catherine.  Their relationship becomes complicated over questions regarding the authorship of a mathematical proof that he believes to be brilliant.