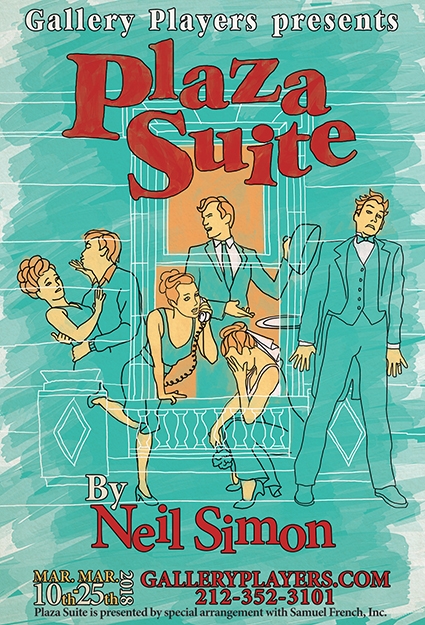 Perhaps Neil Simon's best work. A comedy classic. Hilarity abounds in this portrait of three couples successively occupying Suite 719 at the Plaza Hotel. A suburban couple take the suite while their house is being painted and it turns out to be the one in which they honeymooned 23 years before. This wry tale of marriage in tatters is followed by the exploits of a Hollywood producer who, after three marriages, is looking for fresh fields. He calls a childhood sweetheart, now a suburban housewife, for a little sexual diversion. Over the years she has idolized him from afar and is now more than the match he bargained for. The last couple is a mother and father fighting about the best way to get their daughter out of the bathroom and down to the ballroom where guests await her on what should be the happiest day of her life.
Gallery Players announces auditions for Neil Simon's PLAZA SUITE. Auditions will be held at 199 14th Street in Brooklyn (btwn 4th and 5th Avenues).
AUDITION SCHEDULE:
Saturday, Jan 20 – open call: 12-3pm
Sunday, Jan 21 – open call: 1-4pm
Tuesday, Jan 23 – open call: 7-9pm
Thursday, Jan 25 – callbacks: 7-10pm
Please prepare a 1-2 minute comic monologue.
PLAZA SUITE  Breakdown
Actors will play multiple roles.
Possible Combinations
1.     Actor 1 – Karen Nash, Muriel Tate, Norma Hubley
Actor 2 – Sam Nash, Jesse Kiplinger, Roy Hubley
Actor 3 – Bellhop, Bordon Eisler
Actor 4 – Jean McCormack, Mimsey Hubley
Actor 5 – Waiter
2.     Actor 1 – Karen Nash, Norma Hubley
Actor 2 – Sam Nash, Waiter, Roy Hubley
Actor 3 – Waiter, Jesse Kiplinger
Actor 4 – Jean McCormack, Muriel Tate, Mimsey Hubley
Actor 5 – Bellhop, Bordon Eisler
Karen Nash – Female, late 40s. An affluent homemaker. A pleasant, affable woman, who allows herself to look middle-aged because she knows she's middle-aged and doesn't have a problem with it. She has a sharp sense of humor and, at least on the surface, keeps her cool and sense of humor when she finds out her husband is having an affair
Sam Nash – Male, early 50s.  An affluent businessman. Sam refuses to accept that he is middle-aged and keeps himself in excellent physical shape, watches his diet, and grooms himself meticulously.  He is self-centered and easily irritated by his wife.
Jean McCormack – Female, late 20s-early 30s.  She is Sam's secretary and is having an affair with him.  She is pleasant and efficient.
Bellhop – Male, 20s.
Waiter – Male, 40s-50s.
Jesse Kiplinger – Male, 40s.  A Hollywood producer.  He is confident and stylish.  He has invited an old high school girlfriend to visit his hotel room so he can seduce her.
Muriel Tate –Female, late 30s. Muriel is torn about Jesse's seduction: on the one hand, she's star-struck, on the other, she thinks it's improper.  She claims to be happily married.
Norma Hubley – Female, 40s-50s. An affluent suburban homemaker and mother of the bride. Her daughter has locked herself in the bathroom minutes before her wedding. Norma tries to put on a calm face with the groom's family but is scared of her husband's temper. She sometimes resorts to "Jewish mother" passive-aggression.
Roy Hubley – Male, 50s.  A curmudgeonly businessman with an explosive temper – he is quick to blame his wife for everything.
Bordon Eisler – Male, 20s.  The groom.
Mimsey Hubley – Female 20s. A bride who panics right before her wedding; she is terrified that she and Bordon will end up like her parents.
PERFORMANCE SCHEDULE
Saturday, March 10 @ 8pm
Sunday, March 11 @ 3pm
Thursday, March 15 @ 8pm
Friday, March 16 @ 8pm
Saturday, March 17 @ 2pm
Saturday, March 17 @ 8pm
Sunday, March 18 @ 3pm
Thursday, March 22 @ 8pm
Friday, March 23 @ 8pm
Saturday, March 224 @ 2pm
Saturday, March 24 @ 8pm
Sunday, March 25 @ 3pm