June 4-28, 2009
Producer: Dominic Cuskern/The Gallery Players
Lighting designer: Sarah Watson
Sound designer: Jacob Subotnick
Production Stage Manager: Kristine A. Ayers
Assoc. Producers: Sidney Fortner/Graham Mills
Assistant Stage Manager: Fahim Hamid
Through the month of June, The Gallery Players celebrates playwrights and new works in The 12th Annual Black Box New Play Festival. Each weekend is a new experience as The Gallery Players introduces new crops of talent and celebrates its alumni.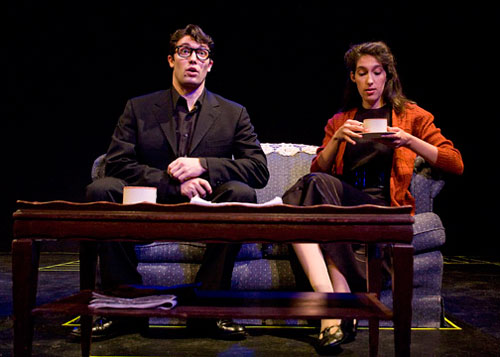 Pictured (l to r): John William Schiffbauer and Kiran Malhotra in The Gallery Players' production of Father Mike. Photo by Bella Muccari.
Performances take place Thursday, Friday, and Saturday evenings at 8pm, and Sunday afternoons at 3pm.
Box 1
June 4-7
Father Mike by T.J. Edwards
Directed by Mark Harborth
The Cast:
Alice Francis – Christine Barclay
Regina Francis – Leslie Boles
Mike Francis – Michael Edmund
Agnes Francis – Sue Glausen Smith
Teresa Miller – Kiran Mulhotra
Angela Francis – Lauren Meley
Michael Francis Jr – John William Schiffbauer
Maglie Calcio poco prezzo
Workshopped at the Utah Shakespeare Festival in 2008, Father Mike is a nostalgic comedy that takes place in 1955 in the home of a proud Catholic family.
Box 2
June 11-14
Nobody Does Carpet Like Bill by Edward Versailles, directed by Barrie Gelles
Bill King – Hank Sbrocco
Richard King – Joey Davis
Tricia – Kristin Wahrheit
Given Our Current Fiscal Crisis by Daniel Damiano, directed by Amanda White
Sharon – Alison Blair
Tom – Mathew Minor
Peter – George Stavropolis
Bill – D.H. Johnson
Unfinished Debasement by Michael Kevin Baldwin, directed by Andrew Firda
Man – Richard Flight
Woman – Sharon Thompson
Bugs by Rich Espey, directed by Barrie Gelles
Mr. Wagner – Andy Stokan
Maddy – Erika Helen Smith
Mrs. Fox – Kristin Wahrheit
Philosophy 101 by Allan B. Lefcowitz, directed by Chad Yarborough
Socrates – Robert Kiernan
Asst. Dean – D.L. Sams
June – Kristin Dausch
Malcolm X Davies – Joe Sonnenblick
Billy – Nelson Felix
Tippy – Alla Bronskaya
Father/Coach – John Levine
Phil – John Rosania
Box 3
June 18-21
Honey & Candy by Lauren Cavanaugh, directed by Justine Campbell-Elliott
Candy – Nikki Gold
Honey – Elyse Brandau
Monitor – David Montgomery
Distastefully Yours by Denis Meadows, directed by Robin Leslie Brown
Gil – Michael Edmund
Mo – John Rosania
Tiffany – Valerie Best
Beautiful World by Kevin Christopher Snipes, directed by Seth Soloway
Hester – Rachel Wright
Ryder – Jeff Campanella
Swan – Andrew Davies
Demme – Jared Rinaldi
Gertrude – Patricia McNamara
Finch – Hank Sbrocco
Inhale by Victoria T. Joseph, directed by Taibi Magar
Rose – Kirsty Meares
Lorraine – Kelly Jackson Garcia
Max – Jesse Wilson
Box 4
June 25-28
In the Shadow of the Lighthouse by Carolina Aguilera
Directed by Dev Bondarin
The Cast:
Alex – Daniela Thome
Antonia – Kate Dulcich
Max – Victoria Garwood
Ryan – David Marshall
David – Lucas Dixon
Judge – TBA
In the Shadow of the Lighthouse opens in 1999 with three friends spending a week at the beach before one of them gets married and moves away. A decade later as the group convenes in the same beach house, the friends realize the cost of the choices they've made and find betrayal and loyalty in unexpected places.
Free Readings on Saturdays
Please join us on the following Saturday afternoons at 3pm for free play readings of up-and-coming scripts:
June 13th: The Dog Show by David Ian Lee
June 20th: Dream Wedding by Ellen Orchid
June 27th: Candide by T.J. Edwards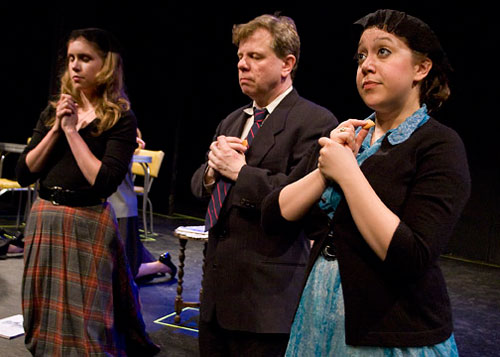 Pictured (l to r): Leslie Boles, Michael Edmund and Christine Barclay in The Gallery Players' production of Father Mike. Photo by Bella Muccari.
Where can a playwright find an outlet? Where can an audience see new works? The Gallery Players provides both of these in this Festival. Over the years of producing the Festival, we have developed works by countless playwrights, many of whom continue to work with The Gallery Players each year to incubate their new ideas. More than 300 plays have appeared in the Black Box New Play Festival since its inception and this year will bring even more writing and acting talent to the stage. Who knows what you'll discover in the Box?