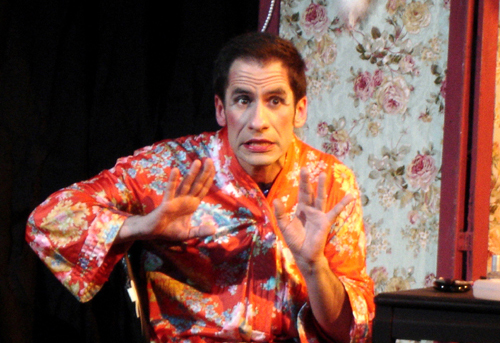 Read the Playbill.com article announcing Torch Song Trilogy starring Seth Rudetsky!
Read the TheaterMania feature article on The Gallery Players 40th Season and Torch Song Trilogy!
"Harvey Fierstein's gay-and-proud "Torch Song Trilogy" returns to its Brooklyn roots in an engaging, witty, and ultimately heart-warming production….One kvells with delight as Rudetsky, known to many as Sirius Satellite Radio host and author of the book "The Q Guide to Broadway," spars with flair" QonStage.com Read the full review.
View images from this production.
The Gallery Players, Brooklyn's premier Off-Off Broadway theater, is especially proud to present, as part of its 40th anniversary season, Torch Song Trilogy, a truly groundbreaking play written by one of its founding members, Tony Award winner Harvey Fierstein. Seth Rudetsky, accomplished Broadway musician, performer, producer, writer, and host of the Sirius Radio programs "The Beat 66" and "Broadway's Best 77", stars as Arnold, the role Fierstein originally portrayed on stage and screen. Torch Song Trilogy runs November 27 through December 10. Performances take place Thursdays, Fridays, and Saturdays at 7:30 PM (PLEASE NOTE EARLY CURTAIN), and Sundays at 3PM. Tickets for this show are available online now!
Set in the 1970s, Torch Song Trilogy was originally performed as three separate one-act plays. The first play, "The International Stud," introduces Arnold (played by Seth Rudetsky), a Jewish female impersonator who is struggling to find love with bisexual schoolteacher Ed (Brad Thomason). "Fugue In A Nursery" ensues in the second play after Ed leaves Arnold for girlfriend Laurel (Andrea Wollenberg). The setting is a weekend country house where chaos breaks out when Arnold introduces his new, young, model-boyfriend Alan (Andy Phelan) to Ed. The final play, "Widows and Children First!" brings Arnold face-to-face with parenthood with an adopted son (Marc Tumminelli) and the only thing that really scares Arnold: the impending visit from his mother (Laura Raines).
As much a reflection of the importance of family and love, Torch Song Trilogy is hailed as a classic comedy in gay theater. The play was one of the first Broadway shows to have a major gay theme in its plot. The 1988 movie version with Harvey Fierstein, Matthew Broderick, and Anne Bancroft was also one of the first mainstream movies to feature homosexuality as its main theme. But the universal themes of finding self-respect, love, and the importance of family is what has made this story a classic with both gay and straight audiences.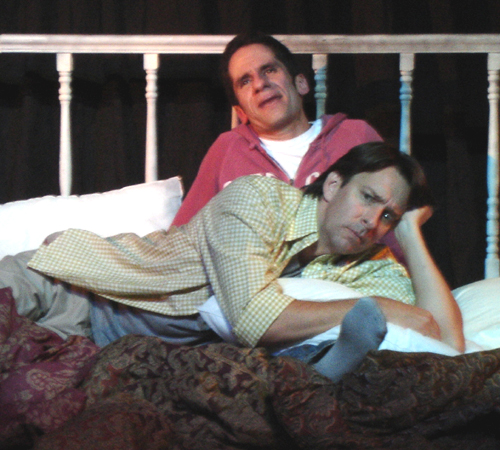 HARVEY FIERSTEIN is an award-winning playwright, actor, and Gay Rights activist. He is the only person in the history of the American theater who has won Tony Awards as an actor and as a writer in both the dramatic and musical categories. Harvey recently completed a run in Las Vegas re-creating the role of Edna from the smash hit musical, Hairspray (2004 Tony Award for Best Actor in a Musical). In the mid-80s, he won two Tony Awards (Best Actor and Best Play) and two Drama Desk Awards, an Obie, and a Dramatists Guild Award for his play Torch Song Trilogy, and he also adapted his play for the screen. He also won a Tony for his book of the musical La Cage Aux Folles. His other plays include Safe Sex, Spookhouse, and Forget Him. In 2005 Harvey spent a triumphant year on Broadway as Tevye in a critically-acclaimed production of Fiddler on the Roof. Film appearances include Torch Song Trilogy, Woody Allen's Bullets Over Broadway, Mrs. Doubtfire, and the Showtime TV movie Common Ground (which he also wrote), among many others. Harvey made his acting debut at La Mama E.T.C. in Andy Warhol's only play, Pork. Harvey has been honored with a plaque on Brooklyn's "Walk of Fame."
SETH RUDETSKY has appeared on Law and Order: C.I., All My Children (as Erica Kane's Las Vegas choreographer) and recently as a coach on MTV's Made. As a comic, he wrote the lyrics for the opening number for the 1998 and 2000 Tony Awards and sassily deconstructed old Tony Award clips for the Radio City audience at the 2006 Tony's. He and his fellow writers were nominated for three Emmy's for their work on The Rosie O'Donnell Show and he was named the 'Funniest Gay Male in New York' at Stand Up NY. Off-Broadway, he won a Playbill leading man award for writing and starring in the critically acclaimed Rhapsody In Seth (directed by Peter Flynn) which played at the Actor's Playhouse (where Torch Song also played!). He has played piano and/or conducted in the pits of 15 Broadway shows and was the music director for the CDs of The Actor's Fund Concerts of Dreamgirls (with Audra MacDonald) and Hair (Grammy nominated). Every Thursday he is the host of Seth's Broadway Chatterbox, a benefit talk show for BC/EFA where has interviewed such stars as Matthew Broderick and Megan Mullally. He can be heard on Sirius Satellite Radio every afternoon as the Broadway deejay and his new book "The Q Guide to Broadway" recently went into it's second printing. www.sethsbroadwaychatterbox.com
STEPHEN NACHAMIE (Director) Broadway credits include Assistant Director on the Chess and Funny Girl concerts. Regional credits include 2 ½ Jews (Emelin Theatre); Urinetown, The Full Monty, and Miss Saigon (Choreographer – Maine State Music Theatre); Hedwig, Joseph…, and Jesus Christ Superstar (West Virginia Public Theatre); Cabaret and Chicago (Award Winner -Seacoast Rep); A Chorus Line (2 Nat'l Tours); West Side Story (Gateway Playhouse, North Carolina Theatre); You're A Good Man, Charlie Brown (Emelin Theatre and Cherry County Playhouse); Beehive and The World Goes 'Round (Seven Angels Theatre); Evita (Pittsburgh Musical Theatre, Gateway Playhouse); and many industrials and new plays. www.stephennachamie.com
M.R. Goodley is Producer of Torch Song Trilogy; Scenic Design by Craig M. Napoliello; Costume Design by Kathleen Leary; Lighting Design by Dan Gallagher; Composer/Sound Design by Brenna Sage; Jodi M. Witherell is Production Stage Manager. The cast includes Seth Rudetsky (starring as Arnold), Yolanda Batts, Andy Phelan, Laura Raines, Brad Thomason, Marc Tumminelli, and Andrea Wollenberg.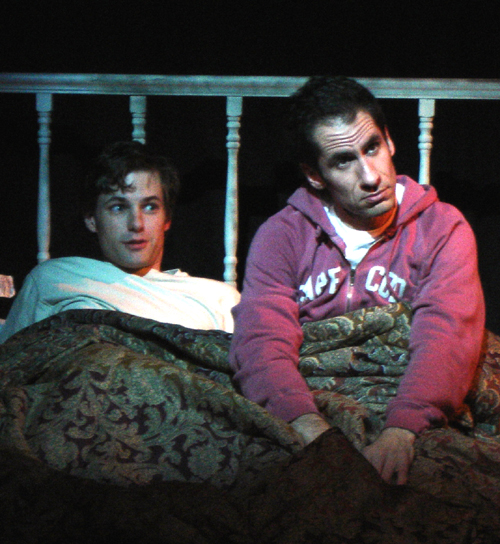 Located in Park Slope, but beloved on both sides of the Brooklyn Bridge, The Gallery Players have been called "local heroes" by Time Out New York and past productions have earned the praise of respected theater artists such as Terrence McNally, Rupert Holmes, James Rado, André De Shields, Annie Golden, Lorraine Serabian, and others. An Equity Showcase House celebrating its 40th season, The Gallery Players' exciting productions and nurturing atmosphere have attracted the best actors, directors, designers, and musicians in New York. Among the well-known alumni of The Gallery Players are Harvey Fierstein (Fiddler On the Roof, Hairspray, Torch Song Trilogy), Jennifer Barnhart (Avenue Q), Manoel Felciano (Sweeney Todd), Diedre Goodwin (A Chorus Line, Chicago), Garrett Long (The Spitfire Grill), John Rando (director of Broadway's Urinetown and The Wedding Singer), Brian Charles Rooney (The Threepenny Opera), Fred Rose (Company), and many other artists.
Further information can be found at www.galleryplayers.com. Individual tickets for each performance are $18 for Adults and $14 for Children 12 and under and Senior Citizens. Individual tickets can be purchased at www.galleryplayers.com or by calling (212) 352-3101. Performances take place Thursdays, Fridays, and Saturdays at 7:30 PM (note early curtain), and Sundays at 3PM.
The Gallery Players is located at 199 14th Street, between 4th and 5th Avenues in Park Slope, Brooklyn. Take the F Train to 4th Avenue or the R Train to 9th Street. By car, take the BQE to Hamilton Avenue, and Hamilton Avenue to 14th Street.