The Gallery Players presented 7 productions for its 41st Season in 2007-2008.
Read the Playbill.com announcement of The Gallery Players' 07-08 season.
Read the Theatermania.com announcement of The Gallery Players' 07-08 season.
Six Degrees of Separation
by John Guare
September 15-30, 2007
Producer: Cathy Bencivenga/The Gallery Players
Director: Tom Wojtunik
Costumes: David Withrow
Set: Tim McMath
Lighting: Travis I. Walker
Sound: Todd Hendricks
Casting: Scott Wojcik
Production Stage Manager: Dan Boulos*
*Member, Actors' Equity Association
Winner of the 1990 New York Drama Critics Circle Award for Best Play, Obie Award Best Play! Based on an actual incident, John Guare's play is a witty and biting commentary on the things that drive people – the desire for wealth, fame, social standing, and meaningful human connection. The play is best summed up by one Guare's leading characters, socialite Ouisa Kittredge: "I read somewhere that everybody on this planet is separated by only six other people. Six degrees of separation …. It's a profound thought…. How every person is a new door, opening up into other worlds." A darkly humorous look at racial and class disparities, the willingness to believe in fakery, reality versus appearance, and the inner and outer sides of everyone, Six Degrees is constantly intriguing.
Read more about Six Degrees of Separation
Yank! A New Musical
Book and lyrics by David Zellnik
Music by Joseph Zellnik
October 20-November 4, 2007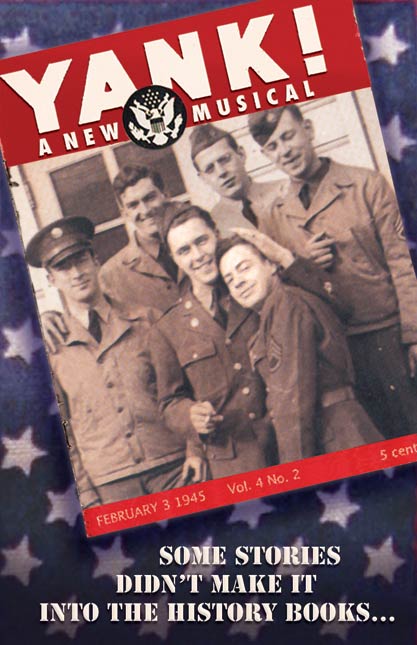 Producer: Matt Schicker/The Gallery Players
Director: Igor Goldin
Choreographer: Jeffry Denman
Musical Director: Daniel Feyer
Scenic Consultant: Ray Klausen
Lighting Design: Ken Lapham
Costume Design: Tricia Barsamian
A love song to Hollywood's "it takes one of every kind" platoon flicks and to 1940s Broadway, Yank! tells the story of a war reporter named Stu and an army private named Mitch who fall in love and struggle to survive in a time and place where the odds are stacked against them. Suffused with songs (swing, big band, boogie-woogie) it explores what stories get told in wartime, and how WWII became the great catalyst in bringing gay men and women together.
The Santaland Diaries
by David Sedaris
adapted for the stage by Joe Mantello
December 1-16, 2007
Producer: Ben Tostado/The Gallery Players
Director: Jason Podplesky
Set and Costume Design: Michael Wilson Morgan
Lighting Design: Marnie Cumings
Sound Design: Neal J. Freeman
Production Stage Manager: Abigail Wesley
Starring: B. Brian Argotsinger*
*Member, Actors' Equity Association
David Sedaris' absurd and acerbic account of working as a Christmas elf at Macy's in Manhattan, The Santaland Diaries, has become an 'anti-holiday' cult classic. Author and pundit, Sedaris made his national debut reading these diaries on NPR's Morning Edition. His wry observations and social critique have made him one of the most renowned humorists today. Christmas will never be quite the same once Crumpet the Elf takes you backstage at Macy's Santaland in this bitterly funny tale. Witty, sardonic and unpredictable, mercilessly cutting through the Christmas spirit to point out the insane things we humans do during the holidays, Sedaris stands up for the Grinch in each of us.
Read more about The Santaland Diaries.
The Wild Party
Book, Music and Lyrics by Andrew Lippa
February 2-24, 2008
Producer: Heather Siobhan Curran/The Gallery Players
Associate Producer: Becca Goland-Van Ryn
Director: Neal J. Freeman
Choreographer: Brian Swasey
Musical Director: Jeffrey Campos
Set Designer: Hannah Shafran
Costume Designer: Summer Lee Jack
Lighting Designer: John Eckert
Production Stage Manager: Emily Ballou
It's the Roaring Twenties and the party to end all parties is being thrown by a Vaudeville dancer and a Vaudeville clown who are in love/hate relationship marked by turmoil and recklessness – very much like the time in which they live. The era – flappers, hot jazz, booze, and sex! The guests – an assortment of people who are living on the very edge. The party – wild. Decadent frivolity leads to a violent end. An award-winning score provides excitement and drive for this tale of moral decadence and passion out of control, something clearly not limited to the past.
Read more about The Wild Party.
Lysistrata
by Aristophanes
Translated by Drue Robinson Hagan
March 15-30, 2008
Producer: Jen Rogers/The Gallery Players
Director: Alexa Polmer
Set Designer: Stephanie Tucci
Costume Designer: Crystal Fergusson
Lighting Designer: Christina Wantanabe
Associate Producer: Angela Astle
Production Stage Manager: Stephanie Sottile
Sound Designer: Jason Thomas Spencer
What keeps us apart, and what draws us together? This audacious antiwar classic, filled to the brim with hilarious innuendo, exposes the shared humanity between two feuding peoples. The women of the warring factions wage a psychological battle of their own when they take over the Acropolis and withhold their sexual favors from the savage local men until such time as the insane conflict is ended.
Man of La Mancha
Book by Dale Wasserman
Music by Mitch Leigh
Lyrics by Joe Darion
April 26-May 18, 2008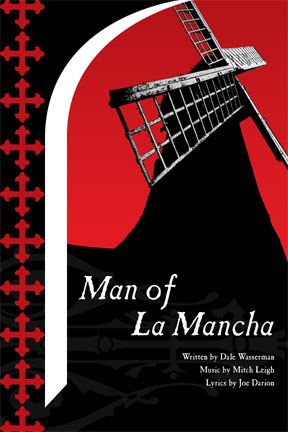 Producer: Seth Soloway/The Gallery Players
Director: Tom Wojtunik
Musical Director: Chris Tilley
Choreographer: Ryan Kasprzak
Associate Producer: Brian Michael Flanagan
Set Designer: Martin Andrew
Lighting Designer: Tony Galaska
Costume Designer: David Withrow
Sound Designer: Kristyn Smith
Stage Manager: Lara Terrell
One of the most beloved musicals of Broadway's Golden Age, Man of La Mancha made its Broadway debut in 1965 starring Richard Kiley. Based on the CBS Dupont Show of the Month original drama, I, Don Quixote, with Lee J. Cobb, the show quickly gained acclaim, containing some of the most beautiful music ever written. The musical tells the tale of author Miguel de Cervantes who, imprisoned and awaiting trial before the Spanish Inquisition, joins with his fellow prisoners to perform a play about Don Quixote de la Mancha, the mad knight who quests for justice and tilts at windmills. "The Impossible Dream", the show's world-famous hit song, has been recorded by practically every major vocalist, from Frank Sinatra to Placido Domingo to Elvis Presley.
Read more about Man of La Mancha.
11th Annual Black Box New Play Festival
June 6-21, 2008
Co-Production with Engine37.
Two new full-length plays presented in repertory
June 6-15 at The Gallery Players
June 17-21 at Manhattan Theatre Source
The Reckoning of Kit & Little Boots by Nat Cassidy
Hope's Arbor by Rich Espey
June 19-21 at The Gallery Players
A staged reading of The Resurrection of Dismas & Gestas by Jacob M. Appel
Read more about The 2008 Black Box New Play Festival.
Where can a playwright find an outlet? Where can an audience see new works? The Gallery Players provides both of these in this Festival. Over the years of producing the Festival, we have developed works by countless playwrights, many of whom continue to work with The Gallery Players each year to incubate their new ideas. More than 150 plays have appeared in the Black Box New Play Festival since its inception and this year will bring even more writing and acting talent to the stage. Who knows what you'll discover in the Box?
FOR KIDS: The Peanut Gallery
A Musical Theater Summer Adventure Camp
July 2008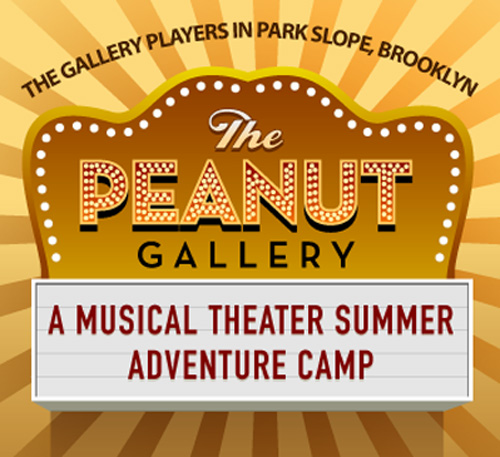 Administrator: Dominic Cuskern
Your kids can sing and dance on stage! Sign up for The Peanut Gallery, an affordable summer day-camp right here in Park Slope. Taught by professional theater artists, kids in Grades 1-6 create and perform an original show with songs from Broadway musicals…all in ONE WEEK! Call (718) 595-0547 x6 to request more information, or read more about the program by clicking here.