Performances take place Thursdays, Fridays, and Saturdays at 8PM; 2PM Saturday matinees the last 2 weekends of each show's run and Sundays at 3PM. (Please check performance schedule for individual shows for detailed information.)
Full subscriptions start at only $110! Buy subscriptions to 3 plays, 3 musicals, and a new play festival now!
The Underpants
by Carl Sternheim, adapted by Steve Martin
September 13-28, 2008
Producers: Lara Terrell & Tom Wojtunik for The Gallery Players
Director: Seth Soloway
Production Stage Manager: Jodi Witherell
Assistant Director: Stefanie Horowitz
Assistant Stage Manager: DaVonne Bacchus
Set Designer: Stephen K. Dobay
Costume Designer: Danielle Schembre
Lighting Designer: Tony Galaska
Sound Designer: Ned Thorne
Steve Martin, the renowned comic actor and author provides a wild satire adapted from the classic German play about Louise and Theo Maske, a couple whose conservative existence is shattered when Louise's bloomers fall down in public. Though she pulls them up quickly, he thinks the incident will cost him his job as a government clerk. Louise's momentary display does not result in the feared scandal but it does attract two infatuated men, each of whom wants to rent the spare room in the Maskes' home. Oblivious of their amorous objectives, Theo splits the room between them, happy to collect rent from both the foppish poet and the whiny hypochondriac.
"Sometimes, all you're really in the mood for is a good, hearty laugh…The Gallery Players' new production of The Underpants is just that kind of fun…The Underpants [is] a delight, a great value, and, most of all, the perfect respite from the seriousness of real life."
-Sarah Portlock, The Brooklyn Paper
Read more about The Underpants.
Like You Like It
A New Musical
Book and Lyrics by Sammy Buck
Music by Daniel S. Acquisto
October 18 – November 9, 2008
Producer: Heather Siobhan Curran/The Gallery Players
Director: Igor Goldin
Choreographer: Keith Andrews
Musical Director: Jeffrey Campos
Set Designer: Carl Tallent
Costume Designer: Hunter Kaczorowski
Lighting Designer: Dan Jobbins
Production Stage Manager: Kayla Shriner-Cahn
Assoc. Producer: Marissa Rosenblum
Properties: Jaime Phelps
Assistant Stage Manager: Estie S. Sarvasy
All the world's a mall in this totally awesome mix of Shakespeare and John Hughes. It's 1985 and the brand new Arden Mall is hosting a high school dance. Bookworm babe Rosalind wants to go with varsity wrestler Orlando, but she's never had the guts to talk to him. Rosalind disguises herself as a frat dude named Corey and learns Orlando's true feelings for her. But things get tricky when "Corey" complicates the lives of three other couples at Arden. Rosalind will do anything to get Orlando, even if it means showing up at the dance as both herself and Corey. In a show filled with memorable tunes, a hip sense of humor, pure joy and a huge heart, it all works out in Like You Like It!
"Grab your Metrocards, because this season's best new musical isn't on the Great White Way — it's in Brooklyn!"
-Mark Peikert, Backstage
Read more about Like You Like It.
A Tuna Christmas
by Ed Howard, Joe Sears and Jaston Williams
December 6-21, 2008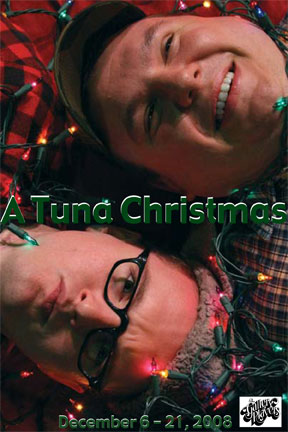 Producer: Robin Mishik-Jett/The Gallery Players
Director: Andrew K. Russell
Production Stage Manager: Erika Omundson
Assoc. Producer: Graham Mills
Set Designer: Edward Morris
Lighting Designer: Maureen Hanratty
Props Master: Nicole Gaignat
Costume Designer: Dawn Luna
Sound Designer: David Roy
ASM/Props Assistant: DaVonne Bacchus
In this hilarious sequel to Greater Tuna, it's Christmas in the third smallest town in Texas. Radio station OKKK news personalities Thurston Wheelis and Arles Struvie report on various Yuletide activities, including hot competition in the annual lawn display contest. In other news, the voracious Joe Bob Lipsey's production of "A Christmas Carol" is jeopardized by unpaid electric bills. Many colorful Tuna denizens, some you will recognize from Greater Tuna join in the holiday fun. Audiences who have and who have not seen Greater Tuna will enjoy this laugh filled evening.
"Justin Barnette and Brian Letchworth, the show's only actors, run frantically between scenes and expertly jostle between costume changes without any glitches…A Tuna Christmas is well worth a visit. I left with that fantastic feeling in my stomach after I'd been laughing for two hours, and I am still chuckling at the sight of that purple tracksuit. I fear I will be giggling at that for days to come." -Sarah Portlock, The Brooklyn Paper
"A Tuna Christmas is like the perfect holiday gift: not expensive, not overblown, but well thought out and presented with a great deal of affection." -Steve Weinstein, EDGE New York
Read more about A Tuna Christmas.
Thoroughly Modern Millie
Book by Richard Morris and Dick Scanlan
New Music by Jeanine Tesori
New Lyrics by Dick Scanlan
January 31-February 22, 2009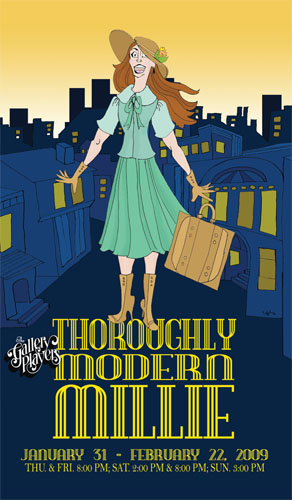 Producer: Brian Michael Flanagan/The Gallery Players
Director: Neal J. Freeman
Associate Producer: Amanda White
Music Director: David Fletcher
Assistant Music Director: Lilli Wosk
Choreographer: Katharine Pettit
Set Design: Ann Bartek
Costume Design: Megan Q. Dudley
Lighting Design: Ryan Bauer
PSM: Emily Rea
ASMs: DaVonne Bacchus, Becca Oursler
This zany, high-spirited 1920s musical, which won the 2002 Tony Award for Best Musical, will have you dancing the Charleston. Thoroughly Modern Millie tells the story of young Millie Dillmount, who has just moved to New York City in search of a new life for herself. It is a time when women were entering the workforce and the rules of love and social behavior were changing forever. Based on the popular movie, it is a musical filled with frisky flappers, dashing leading men and a dragon-lady of a villainess who audiences will love to hate. It is a perfectly constructed evening of madcap merriment.
"A shining example of verve and ingenuity. Every performance is heartfelt. Director Neal J. Freeman orchestrates the scene transitions with a seamless fluidity that puts the original overproduced Broadway production to shame." -Heather J. Violanti, nytheatre.com
"Catching a performance of Thoroughly Modern Millie is quite possibly the most fun thing you can do with your clothes on in Park Slope this month. From start to finish, this musical does not disappoint." -Mike McLaughlin, The Brooklyn Paper
Read more about Thoroughly Modern Millie.
Bus Stop
by William Inge
March 14-29, 2009
Producer: Amanda White/The Gallery Players
Director: Heather Siobhan Curran
Production Stage Manager: Trevor Regars
Associate Producer: Brian Michael Flanagan
Set Design: Edward Morris
Costume Design: Meredith Neal
Props Design: Nicole Gaignat
Lighting Design: Mike Billings
Sound Design: Neal J. Freeman
Assistant Stage Manager: Rebekah Hughston
In the middle of a howling snowstorm, a bus out of Kansas City pulls up at a cheerful roadside diner. All roads are blocked, and four or five weary travelers are going to have to hole up until morning. Cherie, a nightclub chanteuse in a sparkling gown and a seedy fur-trimmed jacket, is the passenger with most to worry about. She's been pursued, made love to and finally kidnapped by a twenty-one-year-old cowboy with a ranch of his own and the romantic methods of an unusually headstrong bull. The belligerent cowhand is right behind her, ready to sling her over his shoulder and carry her, alive and kicking, all the way to Montana. Even as she's ducking out from under his clumsy but confident embraces, and screeching at him fiercely to shut him up, she pauses to furrow her forehead and muse, "Somehow deep inside of me I got a funny feeling I'm gonna end up in Montana …"
"Bus Stop is a good stop-off to get a slice of classic Americana and reflect on the difficulty of letting oneself love and be loved. The predicaments and hard-learned love lessons remain relevant and universal. Under Heather Siobhan Curran's direction, we smoothly pop in and out of the different conversations. Bus Stop is an engaging look at romantic love in various and some slightly nefarious forms." -Lucile Scott, nytheatre.com
"The Gallery Players' production does everything right…Do yourself a favor, pull off to the side of the road and take a break at this Bus Stop. -The Neighborbee Blog
The Who's Tommy
Music and Lyrics by Pete Townshend
Book by Des McAnuff and Pete Townshend
Additional Music and Lyrics by John Entwistle and Keith Moon
May 2-24, 2009
Producer: Katie Adams/The Gallery Players
Associate Producer: Katharine Vandergriff
Director: Tom Wojtunik
Assistant Director: Molly A. Marinik
Choreographer: Christine O'Grady
Associate Choreographer: Sidney Erik Wright
Music Director: Paul Seiz
Production Stage Manager: Lara Terrell
Assistant Stage Manager: DaVonne Bacchus
Set Designer: Michael Kramer
Lighting Designer: Chris Walsh
Costume Designer: Hunter Kaczorowski
Sound Designer: Kate Foretek
Projection Designer: Ron Amato
Pete Townshend's tale of a young boy's journey from pain to triumph is the most electrifying evening of rock and roll ever to play in a theatre! The classic '60s rock opera by The Who was translated to the stage by theatrical wizard Des McAnuff into a high-energy, one-of-a-kind theatrical event. The exhilarating score is timeless in its youthful appeal, giving the show a cross-generational appeal that has made it a smash-hit around the world.
"The Gallery Players does such a bang-up job with The Who's Tommy that you'll be asking, Tommy, can I see you — again?'"
-Mike McLaughlin, The Brooklyn Paper
"A smashing production. Tom Wojtunik's production manages to combine the technical wonder of the Broadway show with a newfound sense of intimacy."
-Matt Windman, AMNY
Read more about The Who's Tommy.
The 12th Annual Black Box New Play Festival
June 4-28, 2009
Producer: Dominic Cuskern/The Gallery Players
Lighting designer: Sarah Watson
Sound designer: Jacob Subotnick
Production Stage Manager: Kristine A. Ayers
Assoc. Producers: Sidney Fortner/Graham Mills
Where can a playwright find an outlet? Where can an audience see new works? The Gallery Players provides both of these in this Festival. Over the years of producing the Festival, we have developed works by countless playwrights, many of whom continue to work with The Gallery Players each year to incubate their new ideas. More than 300 plays have appeared in the Black Box New Play Festival since its inception and this year will bring even more writing and acting talent to the stage. Who knows what you'll discover in the Box?
Read more about The 12th Annual Black Box New Play Festival.
FOR KIDS: The Peanut Gallery
A Musical Theater Summer Adventure Camp
July 2009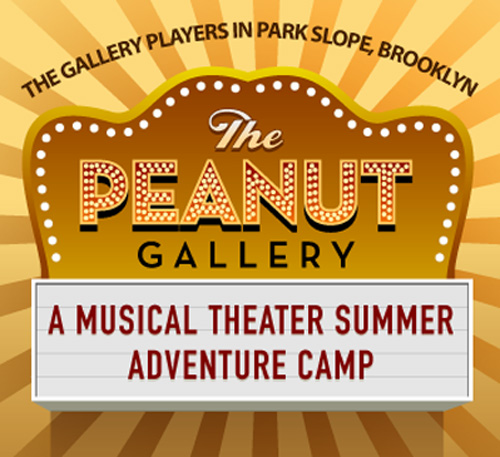 Your kids can sing and dance on stage! Sign up for The Peanut Gallery, an affordable summer day-camp right here in Park Slope. Taught by professional theater artists, kids in Grades 1-6 create and perform an original show with songs from Broadway musicals…all in ONE WEEK! Call (718) 595-0547 x6 to request more information.
Administrator: Dominic Cuskern
The Tragedy of King Lear
July 23-August 2, 2009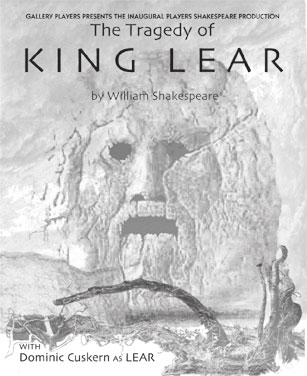 Producing Directors: Sidney Fortner and Dominic Cuskern for the Gallery Players
Production Stage Manager: Kristine Ayers
Set and Costume Designer: Sidney Fortner
Lighting Designer: Emily McGillicuddy
Fight Choreographer: Robert Najarian
This summer, Players Shakespeare, The Gallery Players' newly-created Summer Shakespeare Festival, will produce Shakespeare's classic tale of a king's descent into madness. Dominic Cuskern, a Gallery Players veteran and long-time member of the Pearl Theatre Company's Resident Acting company, will star as Lear.
NOTE: This show is an addendum to the regular season and is not part of our subscription packages.
Read more about The Tragedy of King Lear.
Looking for a previous season? Click below.
2007-08