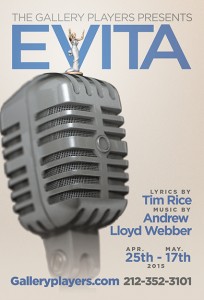 Gallery Players announces auditions for upcoming production of EVITA. The production will be directed by Mark Harborth, with choreography by Elyse Daye Hart and Music Direction by Emily Croome.
Audition schedule is as follows:
Saturday, March 7
10:00am – 1:00pm – Ensemble appointments
2:00 – 5:00pm – Eva appointments
Sunday, March 8
10:00am – 1:00pm – Open Call
2:00pm – 6:00pm – Che/Peron appointments
Thursday, March 12
7:00pm – 9:30pm – Open Call
Saturday, March 14
1:00 – 5:00pm – Callbacks
Please be prepared to sing up to 16 bars of two contrasting contemporary musical theater/rock opera songs. You may sing from show if you like. Please provide your own music. Accompanist will be provided.
Appointments will be issued on a first come basis. Please be considerate of other performers and only accept an appointment you intend to keep. Once appointment slots are filled, we encourage you to attend one of the open calls. Appointments may be requested by emailing photo and resume to auditions@galleryplayers.com.
BREAKDOWN
Eva Peron – Female – Mezza – 20-35 – A beautiful ambitious woman who rises to become the spiritual leader of Argentina by age 26.
Juan Peron – Male – Baritone – 32-55 – An officer of the Argentinian army who rises to become the country's President.
Che – Male – Tenor – 21 -35 – The "Everyman" of the Argentinian people.
Ensemble – Male & Female – all ages – Various roles. Mistress, Migaldi, Understudies, etc. will be selected from Ensemble
Performance Schedule
Saturday, April 25 @ 8pm
Sunday, April 26 @ 3pm (GalleryTalks following the performance)
Thursday, April 30 @ 8pm
Friday, May 1 @ 8pm
Saturday, May 2 @ 8pm
Sunday, May 3 @ 3pm
Thursday, May 7 @ 8pm
Friday, May 8 @ 8pm
Saturday, May 9 @ 2pm
Saturday, May 9 @ 8pm
Sunday, May 10 @ 3pm
Thursday, May 14 @ 8pm
Friday, May 15 @ 8pm
Saturday, May 16 @ 2pm
Saturday, May 16 @ 8pm
Sunday, May 17 @ 3pm
The Staff
Producer: Jacob Subotnick
Director: Mark Harborth
Choreographer: Elyse Daye Hart
Music Director: Emily Croome
Scenic Designer: Matt Iacozza
Lighting Designer: Scott Andrew Cally
Costume Designer: Joey Haws
Properties Designer: Sara Slagle
Sound Designer: Jacob Subotnick
Associate Producer: Hilary Kolman
Publicist: Michael Martinez
Logo Design: performingpixel.com