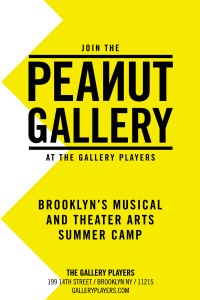 Taught by professional theater artists the PEANUT GALLERY is devoted to  musical theater, personal expression and self confidence. Children will learn the basics of singing and dancing, as well as what it means to participate and contribute to a group. Over the week they will create and perform their own original show with songs from Broadway Musicals!
With the guidance of the talented instructors, and through story-telling, theater games, art projects and performance, kids will not only have fun but will increase their own expressiveness and self-confidence.
2015 CAMP SESSIONS ARE NOW CLOSEd.
PLEASE CHECK BACK SOON FOR DETAILS ON OUR 2016 PROGRAM!