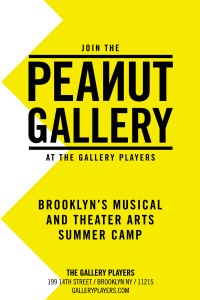 Taught by professional theater artists the PEANUT GALLERY is devoted to  musical theater, personal expression and self confidence. Children will learn the basics of singing and dancing, as well as what it means to participate and contribute to a group. Over the week they will create and perform their own original show with songs from Broadway Musicals!
With the guidance of the talented instructors, and through story-telling, theater games, art projects and performance, kids will not only have fun but will increase their own expressiveness and self-confidence.
2015 CAMP SESSIONS
Monday – Friday, 9:00am – 2:00pm
July 20-24 (Entering Grades1-4)
July 27-31 (Entering Grades 1-4)
*Please drop off your child no earlier than 8:30am, and pick up no later than 2:15pm.
NEW OPPORTUNITY:
EXTENDED DAY NOW AVAILABLE FROM 2:30PM – 6:00PM, MONDAY – THURSDAY.
End of session performance times to be announced.
Bring your own lunch. Water will be provided.
Registration price: $325/Add Extended Day (Monday-Thursday) $425
Price is for one week of classes.
SIGN UP TODAY!
Pay the Peanut Gallery registration fee by credit card on-line by clicking here.
After paying on-line, please e-mail peanuts@galleryplayers.com the following registration information. You must include all of the following information in your e-mail:
Child's name
Grade in Fall 2015
Age
Parent name
Street address including city/state/zip
Phone
E-mail address
Which week(s) you are registering for
You may also mail us a printed registration form (click the link). Print out the form, complete it (please note on the form if you paid on-line), and send to: The Gallery Players, ATTN: The Peanut Gallery, 199 14th Street, Brooklyn, NY 11215. To pay by check, print and mail the form with your check.